21 Secrets - Calling All Mixed Media, Beginning Artists and Creative Fun Seekers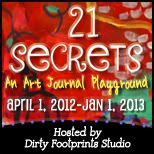 (NOTE: I did not receive any compensation for my recommendation and paid full price for the course)
If you enjoy learning new techniques, new ways to see old things, creating something in a journal everyday, curious about how other creatives do things, or watching others do artistic cool stuff, you should consider signing up for 21 Secrets.
Hosted by Dirty Footprints Studio, 21 Secrets is a wild fun combination of a host of different artists.
I love the Fearless approach of Connie Hozvcika at Dirty Footprints Studio - who will be sharing on FLOW. I don't know all the teachers but I do know Christy Tomlinson of Scarlet Lime (talking about texture), Julie Fei-Fan Balzer (talking about Watercolors), and
Gina Rossi Armfield who will be talking about collecting images and using them in your mixed media art. There are several others I know about a little - looking forward to knowing them better, and some I have yet to find out their gift.
All in all, I am looking forward to the experience. I paid for my registration today. Heads up, wherever you buy the series, that person makes the registration money. Go here to learn more FEARLESS PAINTING - 21 SECRETS
You have all year...or till Jan 01,2013 to study, learn, re-learn etc...on your own time.
HAVE SOME FUN!!!